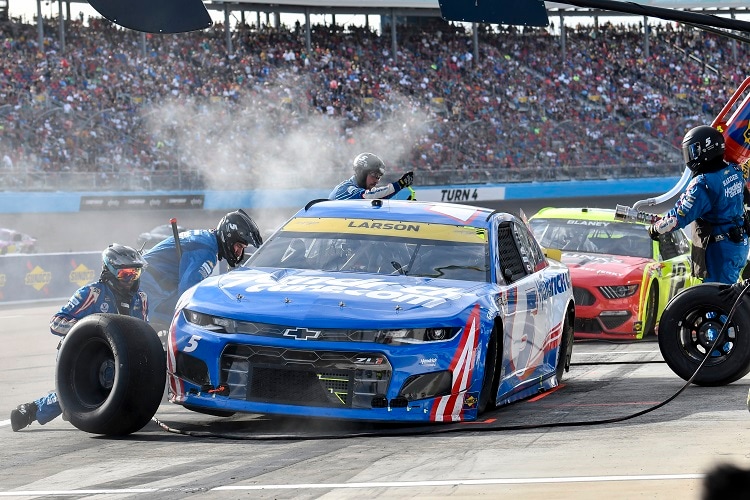 Kyle Larson, who won the pole on Saturday for the season finale at Phoenix Raceway, led the field to the green flag on Sunday. The driver of the No. 5 HendrickCars.com Chevrolet ZL1 1LE fell to second on lap two and remained there until the race's first caution on lap six. Crew chief Cliff Daniels called Larson to pit road for four tires and fuel, but Larson restarted 30th behind numerous drivers who elected to stay out during the caution period. On new tires, Larson maneuvered through the field and gained track position before finishing stage one in fifth position.
Larson brought his No. 5 HendrickCars.com entry to pit road at the stage break for four tires, fuel and a chassis adjustment. Larson re-racked for stage two in fifth and moved into fourth by lap 110. He held this position until another caution waved at lap 128. Daniels called Larson to pit road under yellow for four tires, fuel and a chassis adjustment. An efficient stop by the No. 5 pit crew gained Larson a spot in the race off pit road and he restarted third. He moved into second by lap 154 and took the lead on lap 163 before winning stage two at lap 190.
The 29-year-old driver made a pit stop during the stage break and rejoined the field as the race leader for the start of the final stage. But Larson fell to fourth before the day's final caution waved on lap 281. The No. 5 pit crew executed a flawless pit stop that gave Larson the lead, and he never looked back as he notched his first NASCAR Cup Series championship.
QUOTING KYLE LARSON
"I didn't even think I'd be racing a Cup car a year and a half ago. To win a championship is crazy. I've got to say first off thank you so much to Rick Hendrick, Hendrickcars.com, Jeff Gordon, NASCAR, every single one of my supporters in the stands, watching at home, my family. I've got so many of my friends and family here. My parents, my sister, my wife and kids. "This event was crazy. This format is wild. I'm glad we were able to get it done. And yes, a big shout-out to my parents for getting me involved in racing, my dad for everything he did, building my go-karts when I was young to get me playing around, my mom for videotaping every lap I ever raced and giving me something I could look at and study and get better. Gosh, so cool, I cannot believe it."