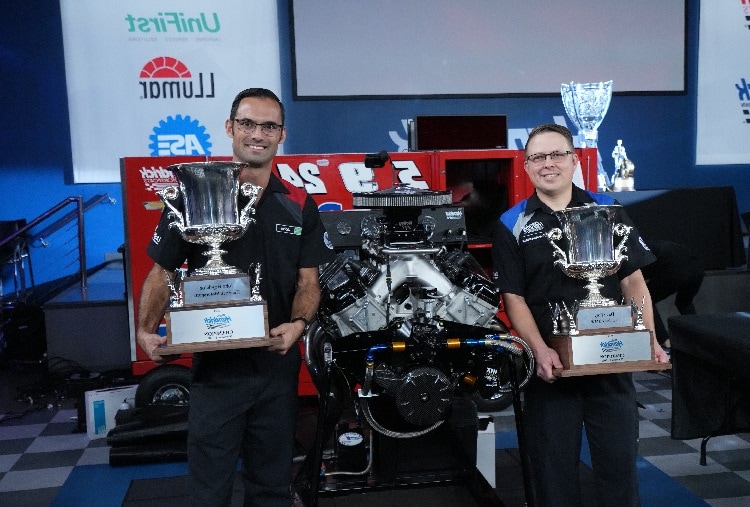 After two days of competition, Hendrick Motorsports engineer John Boydston and Hendrick Automotive Group technician Dave Frey from Hendrick BMW in Charlotte, N.C., took home the title in the 20th annual Randy Dorton Hendrick Engine Builder Showdown, presented by Valvoline. The duo clocked in a build time of 23 minutes and 9 seconds, beating out 11 other teams to win the showdown.
To qualify for the final matchup, 12 teams consisting of one Hendrick Motorsports engineer and one Hendrick Automotive Group technician joined forces to build a Chevrolet R07 race engine, assembling 243 parts as quickly and precisely as possible. The two teams that competed in the championship round were put head-to-head in the final assembly and had to build the same engine and have it run for 60 consecutive seconds.
Kyle Larson, driver of the No. 5 Chevrolet Camaro ZL1 1LE, was on hand for his first Engine Builder Showdown as the competitors raced the clock to build their engines.
"That was so fun to watch," Larson said. "It is crazy how it takes 23 to 24 minutes, but it feels like it takes two and a half minutes. It's high pace, high stress and the teamwork between the two individuals is something to see."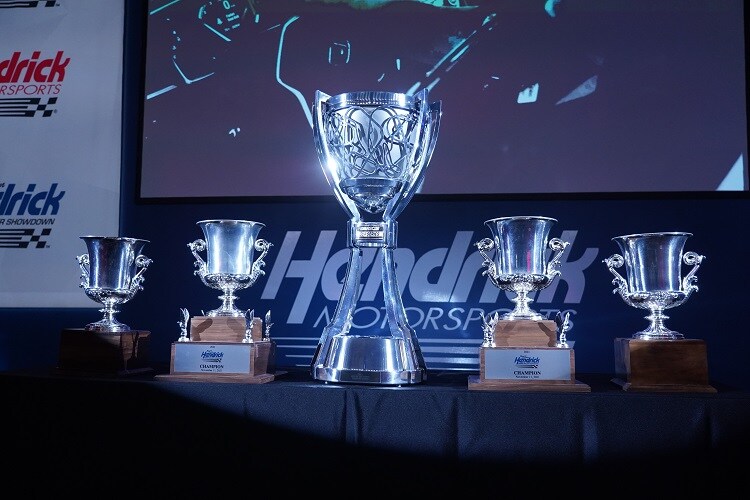 Larson's crew chief, Cliff Daniels, was also watching on as the Hendrick teammates raced the clock to build the Chevrolet race engine. Daniels, who also was involved in the Engine Builder Showdown for the first time, felt the comradery as the Hendrick teammates worked in collaboration during the competition.
"Seeing all the different aspects of the Hendrick family be together and have a competition that is supposed to be friendly competition, but they are all intense competitors," Daniels said. "Everybody going for the big prize is really cool because I feel like this year more than ever, the Hendrick family is so connected from having the Hendrick Automotive Group on our No. 5 Chevrolet all year long."
"To see everybody in here competing, having a good time, laughing and joking around, and seeing Mr. Hendrick here being a part of it was so cool."
A special part of the competition was the announcement and presentation of the Jerry Hilson Award, given to the Hendrick Automotive Group teammate who scored the highest on the Automotive Service Excellence exam. Technicians throughout the company are invited to take the ASE exam, which is used as the qualifying test to pick the builders for the competition. The highest scorers get to travel to Charlotte for competition week, and the Jerry Hilson Award is present to the highest scoring technician overall.
This year's winner was Chris Baggott, from Rick Hendrick Chevrolet in Charleston, S.C. who was a first-time exam taker and competitor in the engine builder showdown. He will surely be a competitor to watch for many years to come!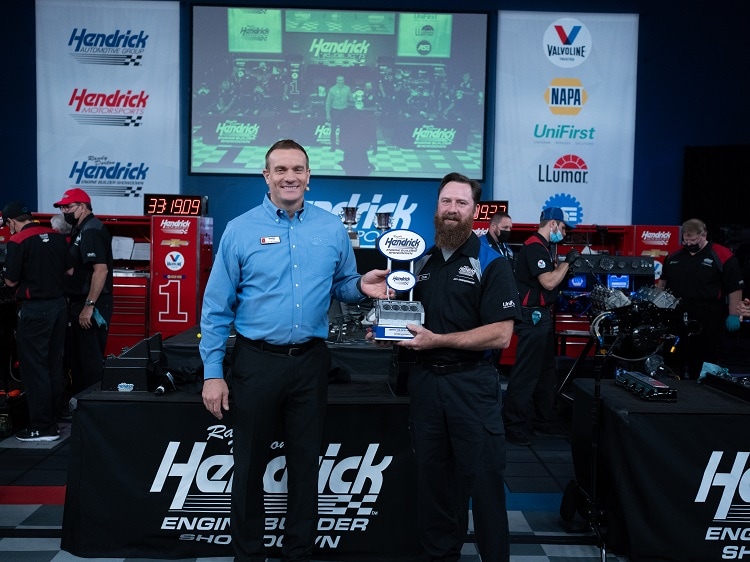 Greg Anderson, driver of the HendrickCars.com Pro Stock Chevy Camaro, was also present for the championship build. A master of quick engine builds himself because of the nature of NHRA drag racing competition, he stopped by the event on his way to compete for his own championship in Pomona, California this weekend.
Anderson surprised Mr. Hendrick with a special trophy presentation from his two wins in the HendrickCars.com colors this season. One win secured Anderson his 97th win, and his second win of the season, 98th of his career, set the new record for most Pro Stock wins by any driver.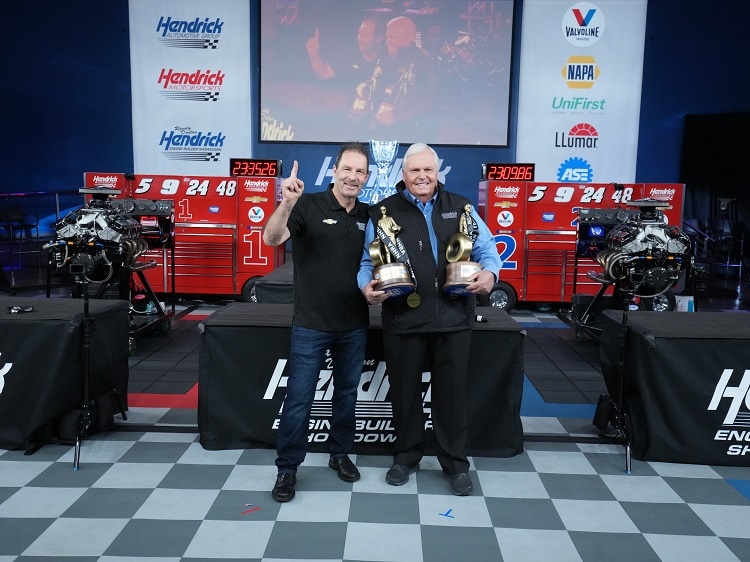 Official 2021 Randy Dorton Hendrick Engine Builder Showdown Results:
1. Dave Frey from Hendrick BMW and John Boydston : 23:39.86
2. Shane Flake from Hendrick Toyota of Concord and Danny Emerick : 24:35.26
3. Karl Siegal from Hendrick Toyota of Concord and Scott Vester : 25:15.35
4. Lee Steffensen from Hendrick Toyota of Wilmington and Chris Moroch : 25:56.29
5. Joe Gagatch from Hendrick Lexus and Sam Vernatter : 26:05.25
6. Tyler Johnson from BMW of Kansas City South and Kevin Moler : 27.17.29
7. Brian Myers from Hendrick Dodge and Jason Ingle : 27:39.33
8. Jonathan Wock from Hendrick Chevrolet and Brian Franklin : 29:00.21
9. Chris Baggott from Rick Hendrick Chevrolet and Shane Parsnow : 29:02.28
10. Donovan Smith from Hendrick Lexus Charlotte and Joshua Speir : 30:47.24
11. Jim Stevens from Darrell Waltrip Volvo and Tyrus Gillen : 33:19.09
?12. Adrian Constantinidis from Rick Hendrick City Chevrolet and Jared Morris : 33:22.26
To watch highlights of the 20th annual Randy Dorton Hendrick Engine Builder Showdown,
click here
.