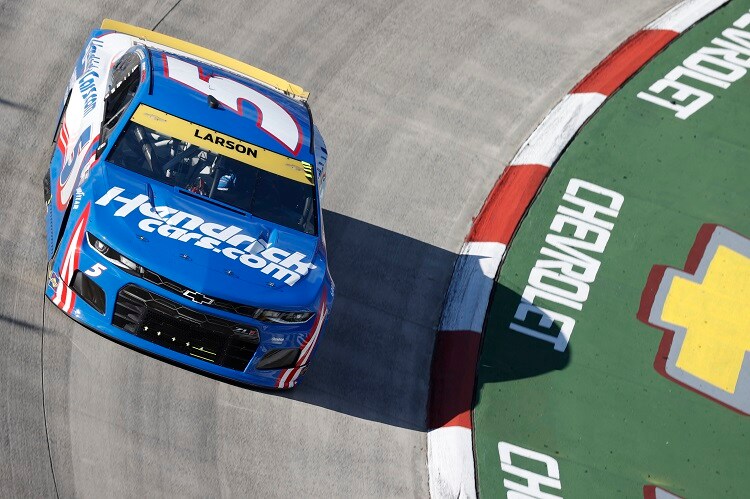 Kyle Larson, who started first in the 500-lap race at Martinsville Speedway on Sunday, led the first 55 laps before being passed by Hendrick Motorsports teammate Chase Elliott. After fast work by the No. 5 HendrickCars.com pit crew during a lap-60 caution, Larson won the race off pit road and again paced the field to the restart. But he was passed by Elliott on lap 85 and trailed his teammate across the finish line when stage one ended at lap 130.
During the ensuing caution period, Larson stopped for service but sped on pit road. The penalty is to restart at the tail end of the longest line, and the Elk Grove, California native took the green on lap 140 from the 22nd position. He was up to 15th by lap 172 and was scored 11th when stage two ended at lap 260.
Another fast stop by the pit crew allowed Larson to gain three spots in the race off pit road, and he started the final stage from eighth. He methodically worked his way up the scoring pylon and was running third with just over 125 laps to go. But another pit road speeding penalty on lap 380 sent Larson to the rear of the field again. After restarting 22nd, the 29-year-old driver maneuvered up to 11th before his No. 5 entry sustained damage in a multi-car accident on lap 460. Larson stopped for repairs and restarted 18th, and was able to gain four positions before the checkered flag waved.
QUOTING THE NO. 5 TEAM
Kyle Larson
"Just bad execution on my part on pit road. I felt like our car was probably top-three or top-five, at times. But my team did a good job working on it. I just sped (on pit road) too late in the race there again. From then on, I just tried to not make anybody upset, knowing that I'm not going to get back up there for a win."