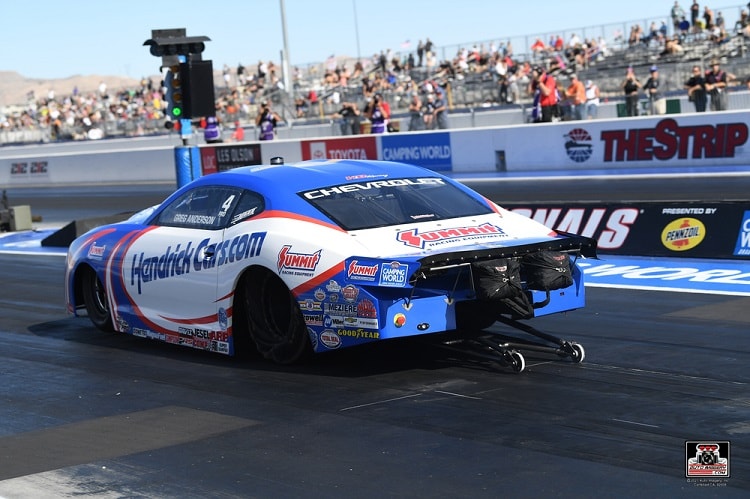 Las Vegas (Oct. 31, 2021) – Greg Anderson has shown the colors of a champion throughout the 2021 season, and in the rare moments when he hasn't been at peak performance, the most winning driver in the history of Pro Stock has had his HendrickCars.com Chevrolet Camaro to rely on. This weekend, at The Strip at Las Vegas Motor Speedway, it was Anderson's teammate who stepped up to knock out a competitor who is pulling out all the stops in an effort to defeat the four-time world champion.
"It's just fantastic that Dallas Glenn was able to win today," said Anderson, who exited early for the first time this season after winning four races in eight final rounds – more than any other driver in the class – and maintaining the points lead from the first race of the year. "It helped keep a bit of distance between myself and Erica [Enders] in the points, but it accomplished so much more than that. It showed the world what a strong team we have at KB Racing, and it showed, once again, what a great driver Dallas is. I'm proud of Dallas, and I really hope this puts him at the top of the list for Rookie of the Year. He drove well today, like he's done all year, and he deserves that award."
Glenn clocked a psychic .001-second reaction time to Enders' .005 in the final and raced to a victorious 6.660-second pass at 204.60 mph to shut down a 6.684, 203.74.
Anderson was the No. 1 qualifier at this weekend's Dodge//SRT NHRA Nationals to secure his 11th pole of the year and 117th of his career. On race day, he missed the win light by just .001-second in his first-round meeting with Troy Coughlin Jr., whose racecar mysteriously slowed against teammate Enders in the semis after they both left the starting with identical reaction times and were neck-and-neck most of the way down the quarter-mile.
After noting that the opposing team used qualifying to manipulate the eliminations ladder in order to set up what they felt was their best chance at advancing their best hope for the championship [Enders], Anderson said, "I can't control what the other teams do, but I can do my absolute best to gain as many points as possible – and we did that in qualifying."
He also said that anything less than a win on Sunday would leave him disappointed.
"It's very disappointing," he said after the round that ended his charge for a record ninth Las Vegas win. "I didn't get the job done today, son of a gun. My HendrickCars.com Chevrolet was great, but the driver wasn't quite good enough. They [the opposing team] did what they meant to do, but I'm not giving up. I won't ever give up. I don't hear anybody singing just yet."
Anderson has a 32-point lead over Enders in the Pro Stock standings, with Glenn just behind her in third. Points will be valued at 1.5 each for the last race of the season.
The 2021 season of the NHRA Camping World Drag Racing Series will conclude in two weeks with the NHRA Finals at Auto Club Raceway at Pomona, November 11-14.
NHRA Camping World Drag Racing Series Pro Stock Standings (after NHRA Las Vegas)
1. Greg Anderson, 2,565
2. Erica Enders, 2,533
3. Dallas Glenn, 2,456
4. Kyle Koretsky, 2,379
5. Troy Coughlin Jr., 2,345
6. Aaron Stanfield, 2,335
7. Chris McGaha, 2,312
8. Mason McGaha, 2,297
9. Matt Hartford, 2,269
10. Deric Kramer, 2,231
11. Kenny Delco, 2,199