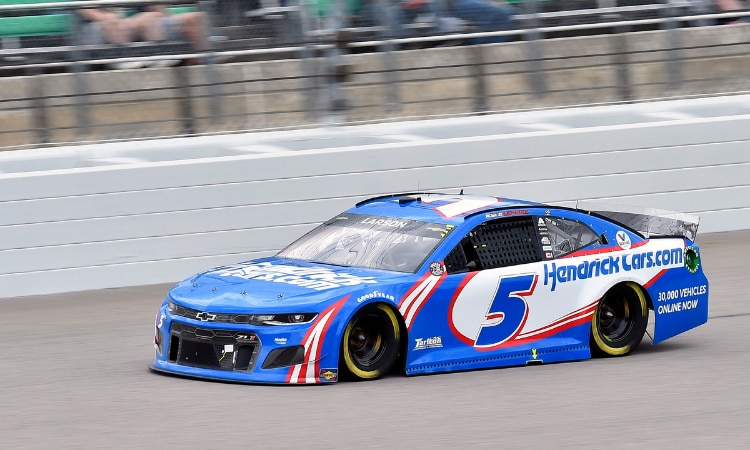 At the drop of the green flag Sunday in the Kansas 400 at Kansas Speedway, Kyle Larson's No. 5 HendrickCars.com Chevrolet Camaro ZL1 1LE showed its strength. The 28-year-old started 32nd but was up to 10th after only 11 laps around the 1.5-mile speedway. By lap 36, he was fifth and, by lap 64, Larson was the leader. But in the closing laps of stage one, he was passed by Kyle Busch and finished second in the 80-lap stage.
After a quick four-tire stop by the No. 5 crew, Larson restarted the second stage as the leader. He paced the field for 54 of the 80 laps to win the second stage – leading at one point by 8.8 seconds over second place.
After the stage break, Larson again led the field to green in the 267-lap race. He appeared to be in position to capture his second victory of the season until a caution waved on lap 252. Larson restarted first with 10 laps to go but lost two positions quickly before another caution waved. With the race ending under a green flag-white flag-checkered flag two-lap shootout, Larson lined up behind the No. 12 driven by Ryan Blaney. Larson used the No. 5 front bumper to push Blaney's No. 12, but the pair lost traction and began sliding in turn two. Larson recovered but fell to 19th before the checkered flag waved.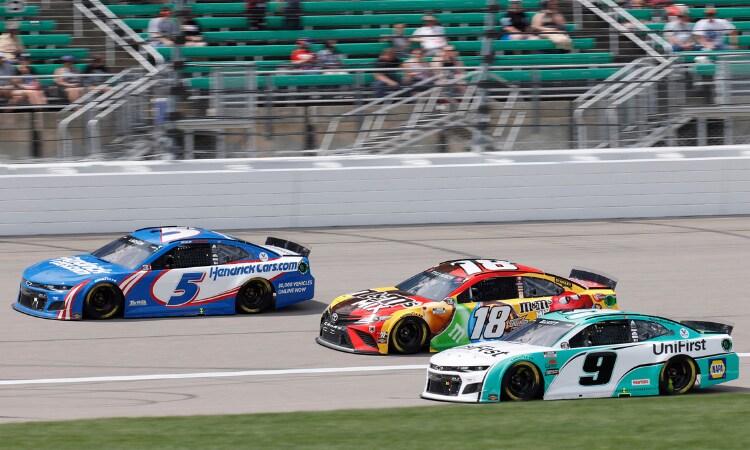 COMMENTS FROM THE NO. 5 TEAM
Kyle Larson
"I had the No. 2 (Brad Keselowski) behind me on the restart with 10 to go and he didn't get to my bumper. I think he had to protect from the guy behind him and it just allowed the bottom to get a good jump on us and the bottom lanes cleared me. I fell back to third and I just planned on pushing (Ryan) Blaney as hard as I could.
"Obviously, I was just pushing too hard, got him loose and chased ourselves both up into the wall. I was just trying to help him stay side-by-side with the No. 18 (Kyle Busch) down the back to allow myself to have some sort of opportunity and, like I said, I just pushed too hard. That's really the first time I was behind anybody on a restart. I thought I could push around the corner, but I learned for next time."