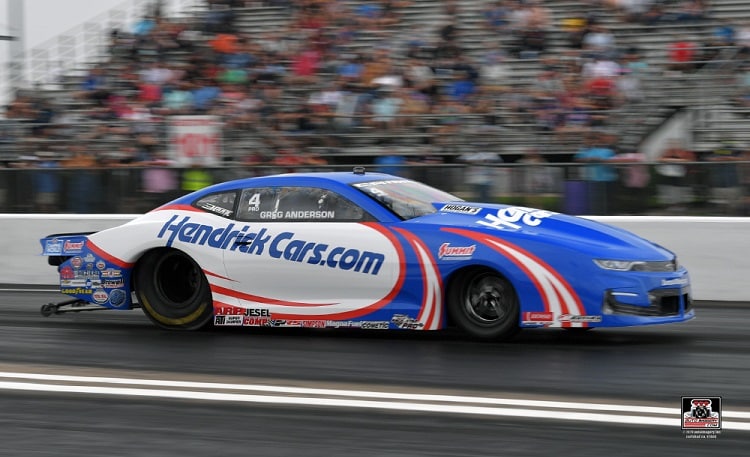 BAYTOWN, Texas (May 24, 2021) – Four-time NHRA Pro Stock world champion Greg Anderson's HendrickCars.com Chevrolet Camaro was the car to beat on Monday at the rain-delayed conclusion of the Mopar Express Lane NHRA SpringNationals. It all came down to his starting-line reaction in round two at Houston Raceway Park, and this time, the win light illuminated in the lane of KB Racing teammate Deric Kramer. Anderson, however, leaves Houston with the points lead and the quickest Pro Stocker in NHRA's Camping World Drag Racing Series.
"You don't want to waste it when you have a hot rod like my HendrickCars.com Chevrolet Camaro, so today was a little frustrating," Anderson admitted. "But days like this, after you sit in the rain all day Sunday waiting and then come back Monday with the quickest car on the property – days like this remind you what you're capable of."
Anderson, who was the No. 1 qualifier at each of the first four races of 2021, tied KB Racing teammate Dallas Glenn in elapsed time in Houston qualifying. Glenn, though, was awarded the No. 1 position – the first of the Rookie of the Year contender's career – based on speed. Glenn clocked a 6.549-second pass at 210.01 mph, while Anderson was 6.549, 208.97.
In the first round of eliminations, Anderson made a statement with low e.t. of the event – a blistering 6.539, 208.97 – in his definitive defeat of Fernando Cuadra Jr.'s 6.690, 188.70. With lane choice heading into round two, he was confident in the power of his steady Chevy, but a slightly delayed .081-second reaction time set Anderson up for a tough challenge. Kramer was .028 at the tree and rowed to a victorious 6.563, 209.56 to Anderson's quicker but ineffective 6.560, 209.39.
"I'm just so proud of this team," said Anderson. "We've got some great and very capable racecars under the awning here at KB Racing. It just makes me even hungrier to get back to the winner's circle and get a trophy with my HendrickCars.com Chevrolet."
The next NHRA Camping World Drag Racing Series event is the TascaParts.com NHRA New England Nationals presented by Bandero Premium Tequila at New England Dragway in Epping, New Hampshire, June 11-13.
NHRA Camping World Drag Racing Series Pro Stock Standings
(following Houston, race 5)
1. Greg Anderson, 439
2. Deric Kramer, 355
3. Erica Enders, 328
4. Mason McGaha, 322
5. Aaron Stanfield, 319
6. Matt Hartford, 299
7. Dallas Glenn, 290
8. Kyle Koretsky, 280
9. Troy Coughlin Jr., 268
10. Chris McGaha, 121