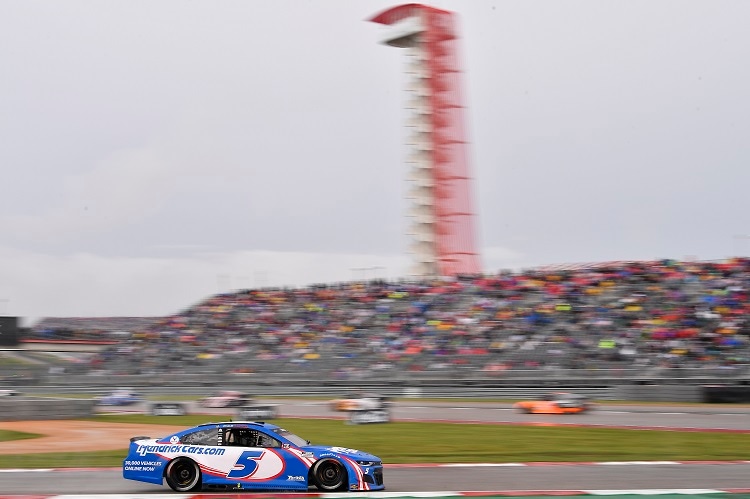 Kyle Larson, who qualified second for Sunday's COTA 231 at Circuit of The Americas, started the event on "slicks" – Goodyear tires that have no rain tread pattern. But with precipitation falling on the 3.41-mile road course, crew chief Cliff Daniels called Larson to pit road on lap four to outfit the No. 5 HendrickCars.com Chevrolet Camaro ZL1 1LE with wet weather tires. Larson returned to the track 18th and gained 14 spots on the wet racing surface before stage one ended at lap 15.
When a caution waved on lap 19, Larson stopped for new wet weather tires and fuel. He restarted 20th but quickly maneuvered past the competition and up the scoring pylon. When stage two ended at lap 32, the 2014 rookie of the year was scored sixth.
Once the race restarted after the stage break, Larson inherited the lead on lap 41 when Chase Elliott and Kyle Busch stopped for fuel and new tires – both would require an additional stop for fuel if the race went its scheduled distance. Daniels waited until lap 45 so Larson's stop would be his final stop of the day during the 68-lap event. After fast work by the No. 5 crew, Larson returned to the track in 11th. Once pit stops were completed, the 28-year-old was scored third behind Elliott and Busch. With just over 17 laps to go, Larson passed Busch for second. While it appeared Elliott did not have enough fuel to make it to the end, a persistent heavy rain made track conditions unsafe and the race was called 14 laps short of full distance with Larson one position shy of his second victory of 2021.
QUOTING KYLE LARSON
"We put ourselves in the right position and had the right strategy to win. Had the race gone green until the end, Chase was going to have to pit for fuel. We did everything we could again and just came up one spot short. We've been there every weekend. We've been challenging for wins. You have to be happy with that. We want the wins. But if you can't win, second's better than third."