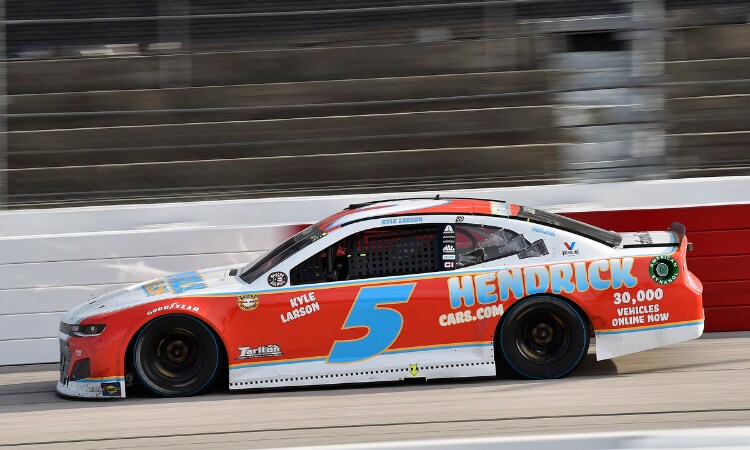 Kyle Larson started Sunday's Darlington 400 at Darlington Raceway from the 14th starting position but was inside the top 10 by lap 21 of the 293-lap event. The 28-year-old maneuvered up to seventh before a round of green-flag pit stops began at lap 59. Crew chief Cliff Daniels called Larson in one lap later, and fast work by the No. 5 crew allowed Larson to gain a spot during that cycle of pit stops. Larson gained two more positions on the track to finish the 90-lap stage fourth.
?During the stage break, Larson again visited pit road for fuel and new tires. But a pit road speeding penalty forced him to start the second stage from the rear of the longest line in 17th. Once the race restarted, Larson methodically worked his way up the leaderboard. He raced his way back into the top 10 by lap 139 and was scored fifth when stage two ended at lap 185.
After stopping for fuel and new tires during the stage break, the driver of the HendrickCars.com Throwback Chevrolet Camaro ZL1 1LE restarted fifth with 100 laps to go at the 1.366-mile egg-shaped oval. He gained one position before a round of green-flag pit stops began at lap 220 and was up to third once that cycle of stops ended six laps later.
Larson moved to the runner-up spot on lap 240 when he passed Kyle Busch, but was 3.5 seconds behind leader Martin Truex, Jr., with just over 50 laps remaining in the event. Daniels called Larson onto pit road for his final stop at lap 255 and, after another fast stop by the No. 5 pit crew, was only 1.5 seconds behind the leader once Truex completed his stop. Larson closed the gap significantly in the closing laps – even attempting to make a pass for the lead – but ultimately had to settle for a second-place finish in the 400-mile event.
Comments From Kyle Larson
"I was surprised that I was able to get to [Truex]. I closed on him on pit road and then I caught him pretty quickly once we were on track. I closed right in and actually had an opportunity to get by him in the middle of (turns) 1 and 2, but I thought I'd stay patient and maybe get him to use his [equipment] up. He was just a little bit better than I was on the long runs. I wish I could have taken advantage of that opportunity, but I thought it was going to play out differently.
"It was a great day for our HendrickCars.com Chevy. During the day we were sliding around. I passed a lot of cars and found myself toward the front. Hats off to Martin Truex (Jr.) and his team. But yeah, it was a great day for our guys after a few bad weeks in a row. So, I'm happy about that and now we'll look forward to Dover and hopefully we'll be really good there."