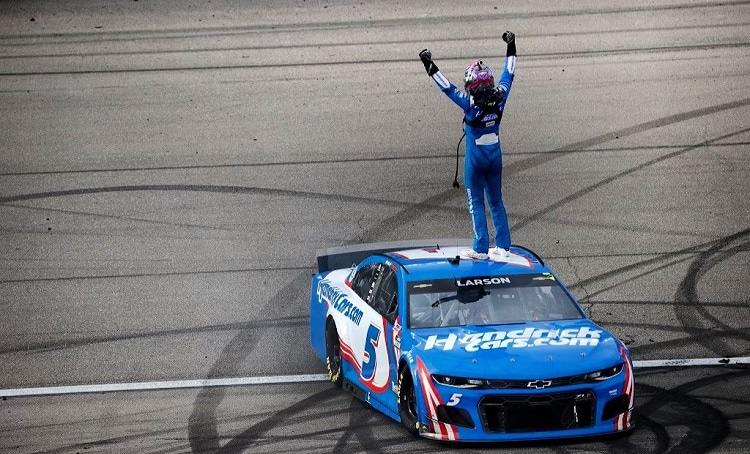 Kyle Larson, who started third in the No. 5 HendrickCars.com Chevrolet, battled Hendrick Motorsports teammates Chase Elliott and William Byron early in Sunday's Las Vegas 400 before taking the lead on lap 27 after a fast pit stop by the No. 5 crew during a caution. But during a lap 46 caution period, crew chief Cliff Daniels elected to keep Larson on track while many other teams stopped for new tires and fuel. Once the race restarted, Larson lost the lead and numerous positions before finishing the 80-lap first stage in 12th.
"In hindsight, we should have taken tires," Daniels reported to the driver of the No. 5 Camaro ZL1 1LE. Larson did stop for fresh rubber during the ensuing caution for the stage break and restarted 10th on lap 87. The 2014 NASCAR rookie of the year again showed the speed of the No. 5 entry, working his way up to the lead on lap 107.
Green-flag pit stops began on lap 122 with Daniels calling Larson to pit road two laps later. Once the pit stop cycle ended on lap 147, Larson was out front with a comfortable lead of more than five seconds over second place. The 28-year old cruised to his first stage win of the year when the stage ended at lap 160.
After another lightning-fast stop by the No. 5 crew during the break, Larson restarted as the leader with 100 laps to go in the 267-lap event. But when a caution waved on lap 179, Larson was one of only a handful of drivers to stop for new tires and fuel. After restarting 15th on lap 184, the No. 5 radio channel was filled with the voice of spotter Tyler Monn telling Larson he was "four-wide top (lane)" and "three-wide bottom (lane)" for several laps. The daring moves allowed Larson to move into the top five in just six laps and into the lead by lap 206.
A critical moment of the race occurred as the leaders prepared for their final pit stop. Daniels called Larson to pit road on lap 224 but Larson was unable to make it to pit road as he slowed while maneuvering around a lapped car. He was forced to run an additional lap as the No. 2 car driven by Brad Keselowski closed to the No. 5 car's bumper. Larson and crew were able to complete their stop first and Larson led Keselowski off pit road.
Once pit stops were completed on lap 238, Larson again paced the field and led the final 30 laps to capture the victory.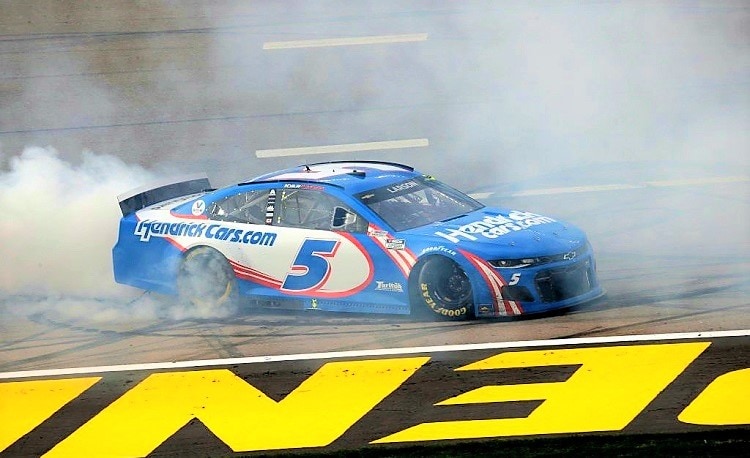 QUOTING THE NO. 5 TEAM
Kyle Larson
"I knew we had a good car in turn three of lap one. It felt that good that early that I knew if we ran a good race and made the right calls that we could battle for the win.
"Cliff (Daniels, crew chief) and everybody did a great job preparing this car. It was so much fun to drive. I could go wherever I wanted to. I knew we had a really good car once we would kind of get single-file but just drafting early in the run was tough. But thanks to Mr. Hendrick, Jeff Gordon, and everybody at Hendrick Motorsports for the amazing opportunity. Hendrick Motorsports, Chevrolet, everybody at the engine shop -- thank you so much for all the hard work. This is definitely special."
Cliff Daniels
"To be here today and have the car as prepared as well as it was, to see the moves that Kyle made on the racetrack to pass those guys and just absolutely nail the restarts, getting himself in a good position the way he did was so cool to see. So thankful to Mr. Hendrick, HendrickCars.com, everyone at Hendrick Motorsports, Chevrolet -- just really cool."