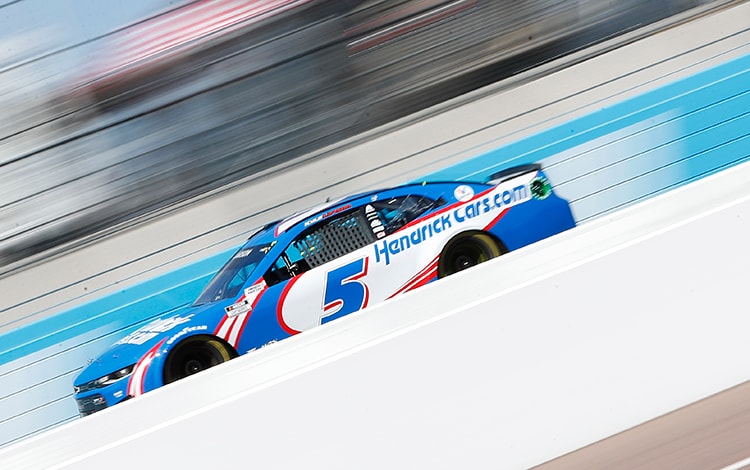 Kyle Larson, fresh off his victory last weekend at Las Vegas Motor Speedway, was scheduled to start second in the Instacart 500 at Phoenix Raceway on Sunday. However, he was forced to start at the rear of the 38-car field as a penalty was assessed by NASCAR because his No. 5 HendrickCars.com Chevrolet took three attempts to pass technical inspection Saturday evening. Larson was not deterred and quickly moved through the field once the green flag waved. By lap 15 he was scored 20th and, when the day's first caution waved at lap 30, the 28-year-old was 14th.
But after stopping for four new tires and fuel during the caution period, Larson was informed he had exceeded pit road speed limit. The penalty is to restart at the rear of the field, and the green flag waved with Larson scored 32nd. Again, he showed the speed of the No. 5 Camaro ZL1 1LE, maneuvering through the field and up to ninth before the stage ended at lap 75.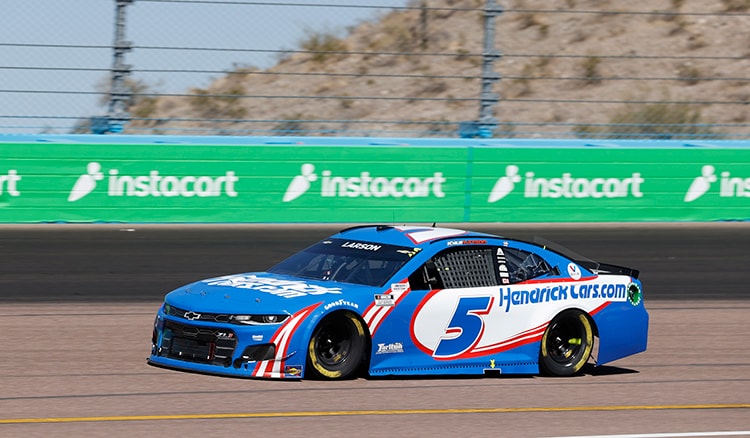 After a quick stop by the No. 5 pit crew during the ensuing caution, Larson restarted sixth on lap 83. He drove his way up to second by lap 128, and Larson assumed the lead on lap 142 when Joey Logano relinquished the top spot to hit pit road for a four-tire pit stop. Larson followed suit a lap later but was again caught speeding on pit road. After serving the drive-through pit lane penalty, he returned to the track one lap down. Larson worked his way back on the lead lap on lap 154 while scored 22nd, and gained another nine positions before the stage ended at lap 190.
After a pit stop sequence during the stage break, the Elk Grove, California, native restarted eighth on lap 199 and gained six positions to run second with just over 60 laps to go. Unfortunately, a 'loose on entry' condition – something he had not experienced all race – crept into the car and the 2014 NASCAR rookie of the year fell to seventh by the end of the race won by Martin Truex, Jr.
COMMENTS FROM KYLE LARSON:
"I hadn't been loose (into the corners) all day and that last run, I was loose in and just couldn't be as aggressive as I needed to be. That in turn meant my angles on exit weren't great. It just made everything harder. The No. 9 (driven by Hendrick Motorsports teammate Chase Elliott) and the No. 4 (driven by Kevin Harvick) got by me late so we finished seventh. We had a really fast car again. That's very promising and I just need to clean up mistakes on my end to have a smoother race."