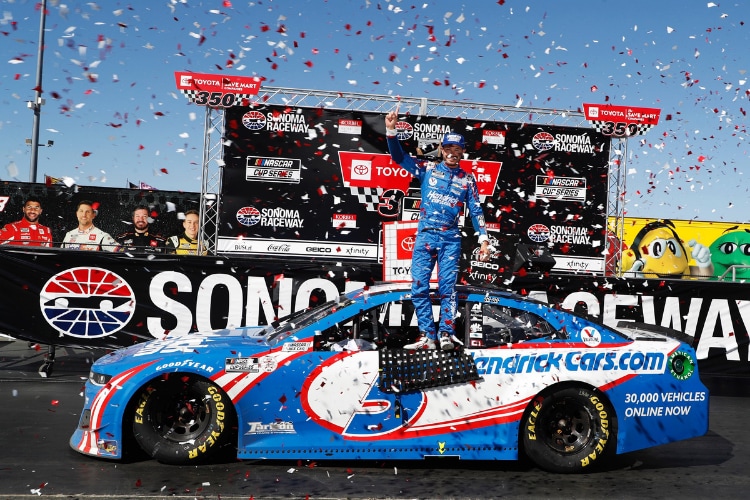 Kyle Larson, who started from the pole position for Sunday's Sonoma 350 at Sonoma Raceway, led the first nine laps on the 2.52-mile road course. On lap 10, crew chief Cliff Daniels called Larson to pit road for service, and the driver of the No. 5 HendrickCars.com Chevrolet Camaro ZL1 1LE returned to the track sixth. Two laps later, Larson took over the top spot when the leaders pitted – a position he held until the stage ended at lap 20.
After stopping for four new tires and fuel during the stage break, Larson restarted 14th on lap 24 behind those that did not pit. Once again, he showed the speed of the No. 5 entry. In two laps, Larson was up to 10th and, by lap 29, he was scored fourth. Larson was running second on lap 31 when a caution waved, and he inherited the top spot one lap later when the leader pitted. The native of nearby Elk Grove, California, led until lap 40 to earn the stage two victory.
During the ensuing stage break, another fast stop by the No, 5 crew allowed Larson to win the race off pit road – but 20 teams did not pit. With 46 of the scheduled 90 laps completed, the 28-year-old restarted 21st but only needed three laps to gain 10 positions. By lap 50, Larson was scored fifth and, eight laps later, he had taken control of the race again.
Daniels called Larson onto pit road at lap 64 and again during a caution period at lap 73. Due to varying pit strategies, Larson restarted fifth on new tires with 16 laps to go. It took only one lap for the 2014 rookie of the year to maneuver up three positions and just one more lap to retake the lead. Although he had to battle through several more restarts due to cautions, Larson led to the checkered flag to capture his third victory of the season.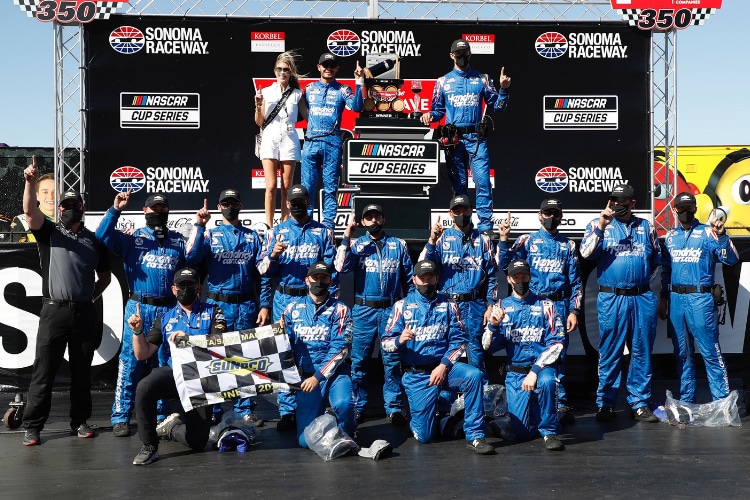 QUOTING THE NO. 5 TEAM
Kyle Larson
"It was not easy. Any road course isn't easy and just trying to keep it on track is tough especially when you've got two of the best behind you on the last restart in Chase (Elliott) and Martin (Truex, Jr.). I felt like I did a good job on the previous restart and stretched it out a little bit and didn't want to give him another try at it, but he kept the pressure on. Martin was strong, too. But this HendrickCars.com Chevy was fast. Thank you Mr. Hendrick. This is unbelievable. I thought I would be okay today, but I just didn't know how I would race. But our car was really good there and I can't say enough about it.
"Northern California will always be home to me, even if I live on the East Coast now. And to get back-to-back wins in the Cup Series is something I've always dreamed of doing. To win last week on Memorial Day weekend was great and to now win four in a row – if you count my dirt racing – is incredible."
Crew Chief Cliff Daniels
"It's been a special week for sure. After the Coke 600 win, this was quite a race. It's hard to even believe that the race played out then the way it did – our car stayed up front the whole time. This week we were a little tired on Monday and Tuesday. I'm so thankful and proud of the guys back at the shop and everyone at Hendrick Motorsports, because we let moments like that create opportunities for us to get rejuvenated and go work hard. Our guys put in a lot of long hours – the whole shop did – to try to get these cars ready to come out west. The trucks had to leave early this week.
"Tuesday was a long day. Wednesday was a really long day. The guys were just ready to grind it out. It takes all that prep and focus to get us back here. I'm very, very thankful."