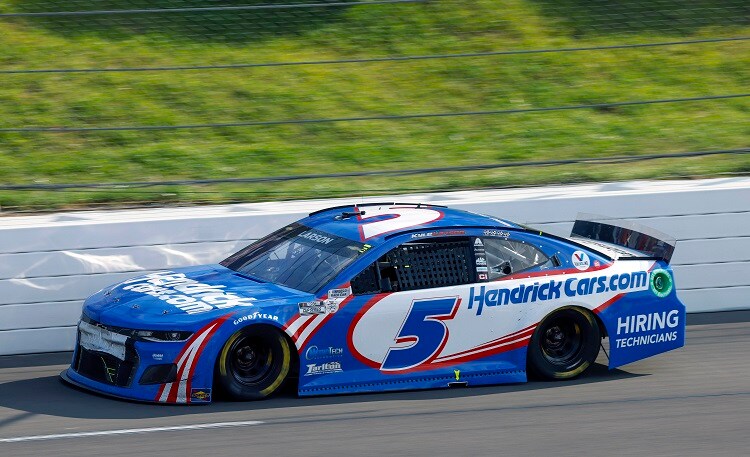 Kyle Larson, who was forced to use a backup car after a final-lap crash while leading in Saturday's event, started the Pocono 350 at Pocono Raceway on Sunday from the rear of the field. Although he was up to 23rd when the day's first caution waved, Larson's No. 5 HendrickCars.com Chevrolet suffered nose damage on the ensuing restart when he hit the rear of Denny Hamlin's car in traffic. The damage slowed his charge through the field, and Larson was only able to maneuver up to 16th before stage one ended at lap 30.
After repairs during the stage break, Larson restarted 34th on lap 35. Crew chief Cliff Daniels was the first to call his driver to pit road for service, and Larson stopped for a change of right-side tires and fuel on lap 46. The 28-year-old driver returned to the track 33rd, but slowly moved up the scoring order when others began to pit. On lap 72, Larson was scored 20th and, on lap 75, he moved inside the top 10. When stage two ended at lap 85, the Elk Grove, California native was eighth.
During the stage break, Larson stopped for four new tires, a chassis adjustment and fuel. He restarted 18th but fell to 23rd before the day's final caution waved at lap 92. Daniels again called Larson to pit road, this time to fill up the fuel cell in the No. 5 entry. With 46 laps to go, Daniels informed Larson they were three laps short of fuel to make it to the checkered flag and that he would need to conserve fuel during the final run. One-by-one, the competitors peeled off the track onto pit road for fuel after the race restarted. By lap 109, Larson was 10th and, on lap 120, he moved up to fifth. With six laps to go in the 140-lap event, Larson passed Kurt Busch to move up to fourth, and he was scored third with two laps to go when Hendrick Motorsports teammate William Byron was forced to stop for fuel. And when Hamlin ran out of fuel coming to the white flag lap, Larson inherited second behind race winner Kyle Busch.
COMMENTS FROM KYLE LARSON
"It seemed like every point of the race and everything that happened in the race didn't go my way. From restarts to guys messing up in front of me to me getting shuffled out of the groove to bad lane choices on my part, nothing went my way.
"Cliff did a really good job keeping my head in it and coaching me through saving fuel. I had a lot of hope there at the end thinking that the 18 (driven by Kyle Busch) might run out."