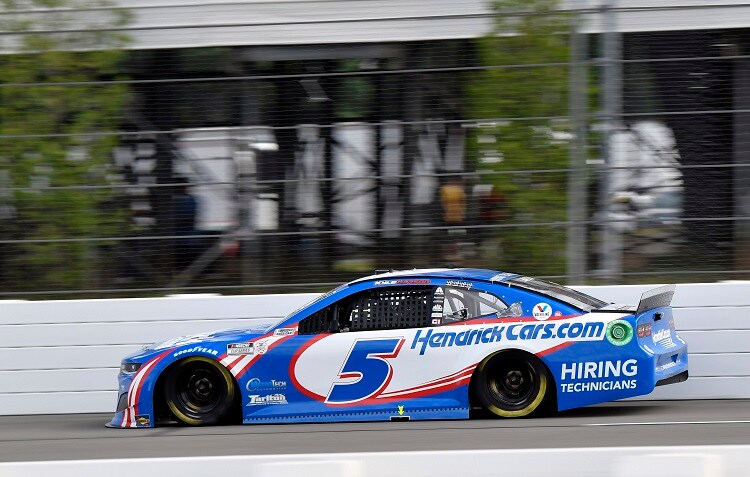 Kyle Larson, who led the field to the green flag in Saturday's Pocono 325 at Pocono Raceway, battled a "loose" condition during the first stage of 25 laps. He was passed on lap four by Hendrick Motorsports teammate William Byron then lost another position to Kyle Busch on lap 17 to finish third in stage one.
After stopping for new tires, fuel and a chassis adjustment during the stage break, Larson restarted 18th behind many who did not stop for service. The driver of the No. 5 HendrickCars.com Chevrolet slowly worked his way up the scoring pylon and was running fifth when a caution waved at lap 52. Crew chief Cliff Daniels called Larson to pit road for service, and the 28-year-old driver returned to the track in 10th. On new tires, Larson made a charge but came up one spot short of grabbing the stage two victory at lap 77.
When the race restarted at 81, Larson charged to the lead in three laps – a spot he held until he made his final stop on lap 92 of 130. He battled Hendrick Motorsports teammate Alex Bowman late and made what appeared to be the winning pass with three laps to go. But the cut tire on the final lap sent Larson into the wall and Bowman to victory.
COMMENTS FROM KYLE LARSON:
"I'm in disbelief still. It's a little bit laughable because I just can't believe it.
"It would have been cool to win five in a row, but it wasn't meant to be. Yeah, I felt something like right in the middle of the tunnel (turn). The tire finally shredded halfway through the short chute and I couldn't turn.
"Hate that we didn't get the win but cool that Alex still did in a Hendrick car to keep Mr. H's streak going. Yeah, I hate we didn't get HendrickCars.com into Victory Lane, but we'll try to start another streak tomorrow."