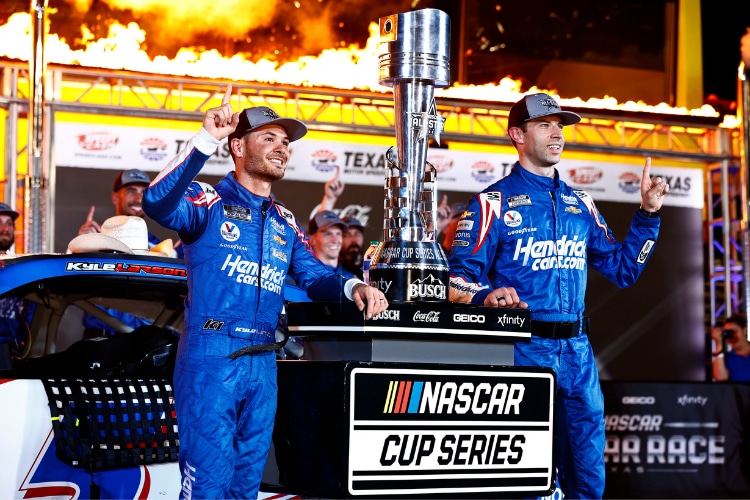 Kyle Larson, who started from the pole position Sunday in the annual NASCAR All-Star event, battled Kyle Busch early in the race. The driver of the No. 5 HendrickCars.com Chevrolet Camaro ZL1 1LE passed Busch on lap seven and led the field to the checkered flag at the end of the 15-lap segment one.
During the break, there was a random draw to determine the number of spots that would be inverted to begin segment two. With the number 12 chosen, Larson was forced to restart 12th. But he battled a "very tight condition in traffic" and fell to 14th by the segment end at lap 30.
A full-field inversion for the segment three starting lineup was known in advance of the event, so Larson restarted eighth in the 21-car field. Although he battled a "plowing tight" condition with his No. 5 entry, the 28-year-old driver gained two spots before the segment ended at lap 45.
The random draw for the inversion for the start of segment four produced a "nine," so Larson restarted the 15-lap segment fourth. Again, he gained two positions and trailed only Hendrick Motorsports teammate William Byron under the checkered flag that ended the segment.
The starting order for stage five was based on a cumulative total of finishing positions in the first four stages, and Larson started second alongside Byron. There was a mandatory four-tire green-flag stop during the 30-lap segment, and a caution during that cycle allowed Brad Keselowski to inherit the lead with Larson scored fourth. The Elk Grove, California, native was able to get past Keselowski but trailed Hendrick Motorsports teammates Chase Elliott and Byron when the segment ended.
That set up a thrilling 10-lap final dash for the cash in segment six. When the race restarted, Larson pushed Elliott into the lead but then jumped to his outside entering turn 3. Keselowski then dove low to take over the top spot with Larson a close second. Larson then bypassed Keselowski on the 92nd lap and help off the No. 2 over the remaining eight laps to capture the million-dollar payday.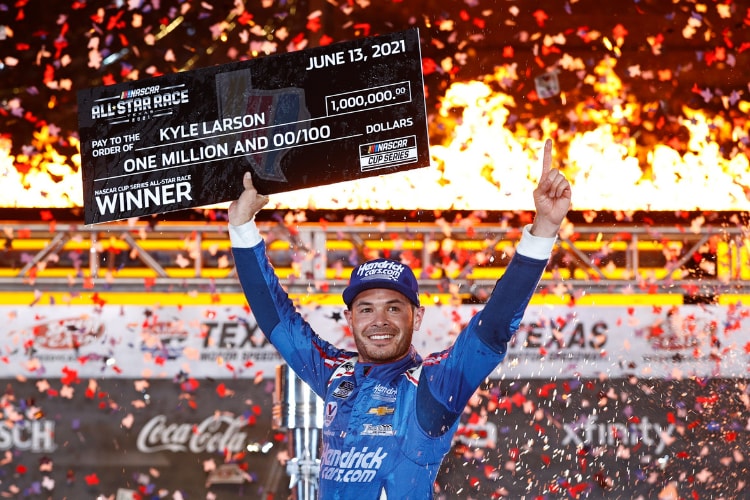 QUOTING THE NO. 5 TEAM
Kyle Larson
"I can't believe it. That second run, we were really bad and I was like, 'man, we're in trouble'. I went backwards that round, so I was like we've got an uphill battle. I did not imagine seeing myself winning this race today. Cliff (Daniels, crew chief) and everybody works so hard on this thing and made some good adjustments throughout the first, second and third rounds and got us in position. "That last restart worked out exactly how I needed it to. I wanted Chase (Elliott) to not get a good run down the back. I just shoved him down the back and he probably thought I was going to just follow him. I thought there had to be enough grip above where we'd been running for one corner. It was a little slick up there, but I was able to get it and hold him off from there."
Cliff Daniels, crew chief
"We had to work on the balance to get it closer so he could run in traffic better, and the second round did not go very well for us. The guys buckled down, we threw a lot of changes at it, got the car a lot closer where he could be aggressive and try to set himself up for passes – which was cool to see. Then the way the points and everything worked out for us to start in the top 3 or 4 going into the fifth round worked out pretty well and the driver got it done in the final round."