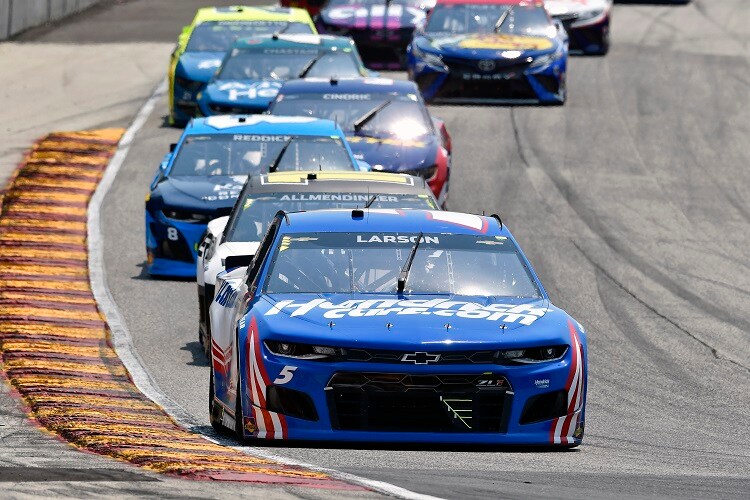 Kyle Larson, who started second in Sunday's 62-lap race at Road America, challenged teammate William Byron for the lead early in the race before being passed by road course ace A. J. Allmendinger on lap six. Larson remained in third until the stage ended at lap 14.
Because of the long lap times on the serpentine layout, some teams elected to stop for service prior to the stage break and did not lose a lap. When Larson and the leaders made their four-tire stops during the break, they returned to the track and were lined up behind those that previously pitted. Larson restarted stage two in 11th on lap 16 and gained seven positions before the stage ended at lap 29.
Again, some teams elected to pit prior to the end of the stage. Larson entered pit road fourth and gained positions in the race off pit road after a quick stop by the No. 5 crew. But the driver of the No. 5 HendrickCars.com Chevrolet Camaro ZL1 1LE restarted 18th with 30 laps to go. When a caution waved at lap 42, Larson was up to ninth. Crew chief Cliff Daniels called Larson to pit road for service and another lightning-fast pit stop by the No. 5 crew gained Larson five positions on pit road.
The race restarted with 17 laps to go, and Larson was running fourth just ahead of Hendrick Motorsports teammate Alex Bowman with a handful of laps left when Bowman experienced a brake issue. Contact as the pair entered turn five sent the No. 5 entry spinning – and down the leaderboard. Larson was able to recover but fell to 16th by the checkered flag.
COMMENTS FROM KYLE LARSON
"I hate to give up points there at the end, but there's still a lot of racing left before the Playoffs start. We'll just keep trying to do a good job in the Stages. It would be nice to get back and win some Stages, win some more races and pad our bonus points.
"Not a bad day, but I think there's a lot of areas that I need to get better on road courses. I feel like our team did a really good job of improving it from practice. It definitely drove better today than it did yesterday, so I was happy with that and our pits stops today."