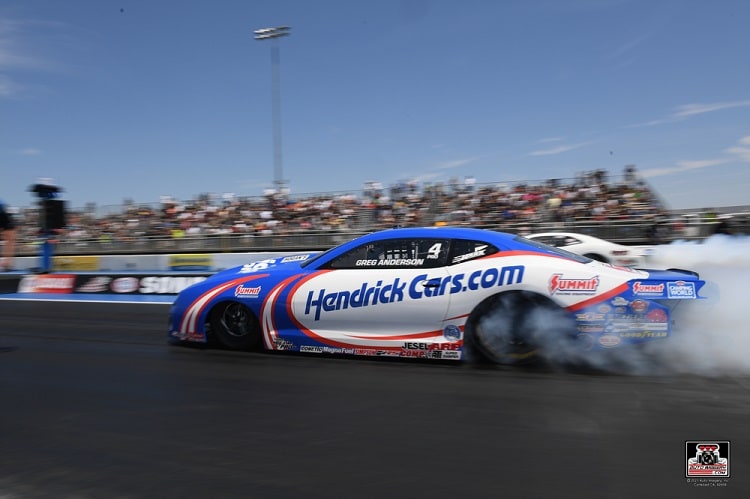 SONOMA, Calif. (July 25, 2021) – Pro Stock joined NHRA's famed Western Swing this weekend at Sonoma Raceway for the 33rd annual NHRA Sonoma Nationals, and Greg Anderson wasted no time in getting down to business. The driver of the HendrickCars.com Chevrolet Camaro rocketed to his seventh No. 1 qualifier award of the season in just eight races, and on Sunday in California wine country, points leader Anderson raced to the semifinals to protect his stance at the top of the pack.
"It's a little bittersweet to have a fast racecar like this HendrickCars.com Chevrolet and not walk away with a trophy on Sunday, but it just makes you that much hungrier," said Anderson. "I love these back-to-back races, because you get a little momentum, you get into a rhythm, and you get another chance if things don't go your way. I'm proud of our team – the KB Racing crew was great all weekend – and we're all licking our chops to get to Pomona next weekend."
Starting from the No. 1 spot on a crisp and quick 6.513-second pass at 210.44 mph, four-time world champion Anderson defeated Steve Graham in the first round of eliminations with one of the quickest passes of the day, a 6.538, 210.37 to 6.605, 208.39, and claimed lane choice over Mason McGaha in round two.
There, he made the quickest and fastest pass of the round, a 6.545, 209.95, to defeat McGaha's 6.554, 210.41. The margin of victory was just .004-second, but it was enough. Anderson was again awarded lane choice, this time over Aaron Stanfield.
Anderson was on target with a .023-second reaction time in his semifinals meeting with Stanfield and had the lead by the 330-foot timer, but when his swift Chevy got out of the groove and made a move toward the centerline, the seasoned pro was forced to tame the beast. Stanfield moved ahead for the win light.
"It was a good weekend for us in Sonoma, but it could have been better," said Anderson with a shake of his head. "But it was great to be back out here doing what we love to do. We've got a little steam, and I'm confident we can build on that."
The next event on the 2021 NHRA Camping World Drag Racing Series Schedule is the Lucas Oil NHRA Winternationals in Pomona, California, July 30-August 1.
Greg Anderson's Race Results:
R1: Greg Anderson defeated Steve Graham, (.067-second reaction time) 6.538-second at 210.37 mph to (.035) 6.605, 208.39
R2: Anderson def. Mason McGaha, (.037) 6.545, 209.95 to (.032) 6.554, 210.41
R3: Aaron Stanfield def. Anderson, (.017) 6.551, 209.59 to (.023) 6.635, 187.81
NHRA Camping World Drag Racing Series Pro Stock Standings (following eliminations at NHRA Sonoma)
1. Greg Anderson, 729
2. Aaron Stanfield, 594
3. Erica Enders, 566
4. Matt Hartford, 508
5. Dallas Glenn, 492
6. Mason McGaha, 485
7. Deric Kramer, 454
8. Kyle Koretsky, 447
9. Troy Coughlin Jr., 431
10. Chris McGaha, 305