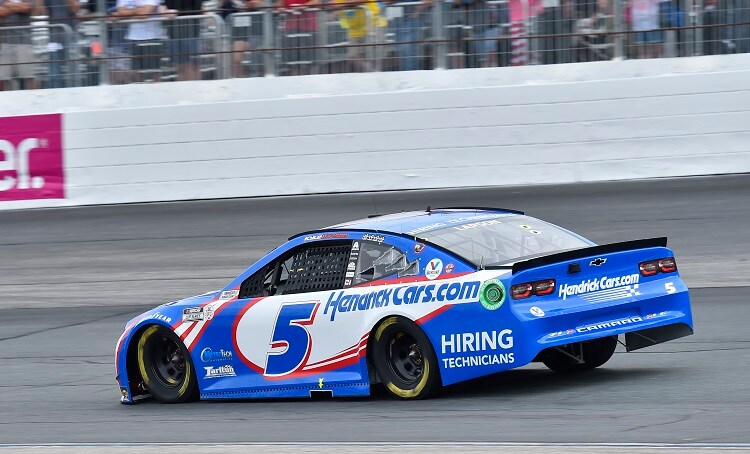 Kyle Larson, who started 10th in Sunday's race at New Hampshire Motor Speedway that was scheduled for 301 laps, was running in that position when rain hit the speedway on lap 5. After a more than 90-minute stoppage to dry the track, the race restarted and Larson moved up to ninth before another caution waved at lap 31. Crew chief Cliff Daniels called Larson onto pit road for new tires and fuel, and Larson restarted 22nd on lap 38 behind many drivers that elected not to pit. The 28-year-old driver gained 12 positions before stage one ended at lap 75.
After stopping for service during the break, the driver of the No. 5 HendrickCars.com Chevrolet ZL1 1LE restarted eighth on lap 81. Although he ran as high as fourth during the stage, Larson battled a "loose" condition and fell to seventh by the end of stage two at lap 185.
Quick pit work by the No. 5 crew during the break gained Larson two positions and allowed him to restart fifth on lap 192. While the car was a lot better during the run, the 2014 rookie of the year tagged the wall on lap 212. Larson lost two positions after that contact but remained seventh until his final pit stop at lap 249. Although he fell to 16th one lap down following the stop, Larson was again seventh and racing on the lead lap once green-flag stops were completed at lap 275. With darkness quickly approaching in the rain-delayed race, NASCAR ended the race eight laps short of its full distance with Larson scored seventh.
COMMENTS FROM KYLE LARSON
"I think we just needed grip. I was just a little bit too loose. Once we finally got some grip in it, my long run kind of faded a little bit. My team made some improvements, so that was good. I feel like with the improvements, we probably finished a spot or two better than we maybe would have before. It's good to get the No. 5 HendrickCars.com Camaro ZL1 1LE back into the top-10."