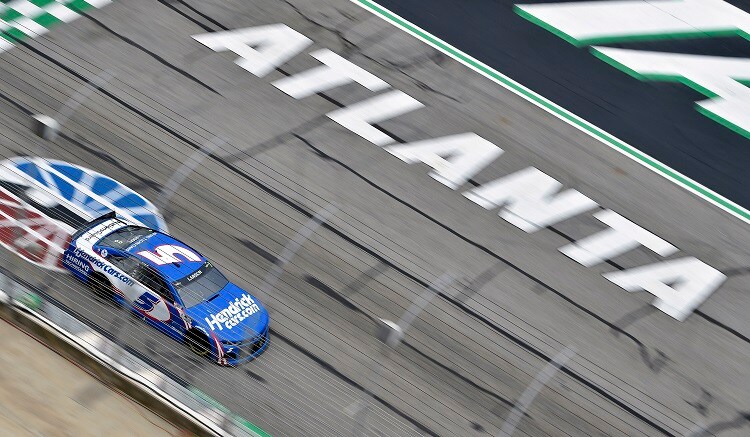 Kyle Larson, who started sixth in the 400-mile race at Atlanta Motor Speedway on Sunday, fell to eighth early in the 260-lap race while battling a "tight" handling race car. He rebounded and passed two cars late to finish sixth in the 80-lap stage one.
After a fast four-tire stop by the No. 5 crew that included chassis adjustments to the No. 5 HendrickCars.com Chevrolet Camaro ZL1 1LE, Larson restarted the second stage from the fourth position. He again was "tight" early in the run and fell to eighth. Again, Larson was fast on the longer run and maneuvered up to fourth before stage two ended at lap 160.
When the race restarted, Larson was scored fourth and was running in that position when he approached his final pit stop. Crew chief Cliff Daniels called Larson to pit road on lap 210, but the 28-year-old driver entered pit lane too fast and was forced to serve a "drive-through" pit road penalty after the completion of his four-tire stop. The extra trip down pit lane dropped Larson to 21st, and he was able to gain three positions before the checkered flag waved at lap 260.
COMMENTS FROM KYLE LARSON
"We were tight early in the run but seemed to have speed later on. I apologized to the crew for my mistake speeding on pit road. I wasn't even trying to push it getting to pit road – I just carried too much speed on entry."