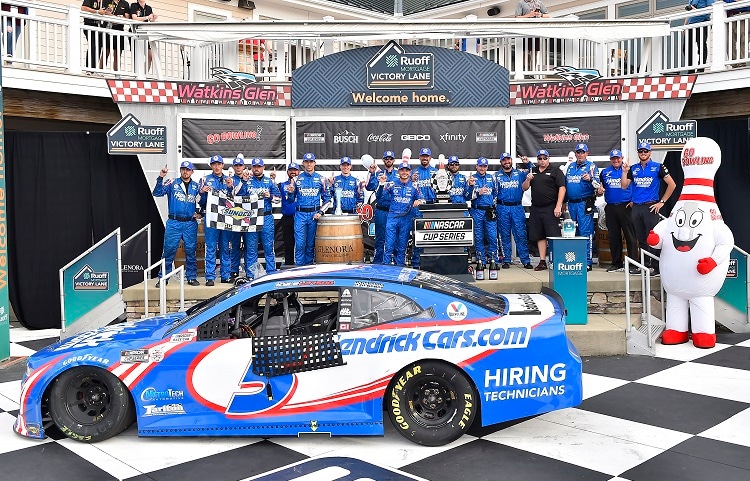 Kyle Larson, who started fourth in the 90-lap event at the 2.45-mile road course in Watkins Glen, worked his way to second by the competition caution on lap 10. The driver of the No. 5 HendrickCars.com Chevrolet ZL1 1LE did not pit during the caution period, and he remained in that position until stage one ended at lap 20.
Larson stopped for four new tires and fuel at the end of the stage, and he restarted 19th on lap 23. The race's next caution occurred on lap 24 and crew chief Cliff Daniels asked Larson to "save fuel hard" to ensure they would have enough fuel to make it to their fuel window. Larson stayed out and took the green-flag on lap 28 from 13th but quickly surged into the top 10, running seventh by lap 33. Larson eventually made his way to fourth before the end of stage two.
To maintain track position, the No. 5 team chose to stay out and reset for stage three in fourth. Larson moved to second on lap 55 and, a few laps later, he made his final stop under green on lap 57 for four new tires and fuel. He rejoined the field 16th but was up to 13th by lap 58. He made up a lot of ground with the fresh tires, breaking into the top 10 on lap 59 and was up another three positions one lap later. As the cars in front of Larson began to pit, he took over the lead on lap 65 and managed to fight off the rest of the field for the remainder of the race en route to winning the 90-lap event.
QUOTING THE NO. 5 TEAM
Kyle Larson
"That was awesome and really shows how good the organization is – all the men and women in this team and organization. All four of us could not be getting these wins like we have been without them. Thanks to them and thanks to everybody else I get to race for. Hopefully, we can just keep racking these wins up."
Cliff Daniels
"Yeah, Kyle is naturally good anywhere. The format that we have now in the Cup Series where we don't have practice and qualifying and you don't have three practice sessions before the race to dial yourself in or out – it's just 'load and go.'
"We're kind of spoiled that we have the best road course team in-house, and that's the 9 (car driven by Chase Elliott). I think all things being equal today, it was going to be a really tough race to beat those guys."