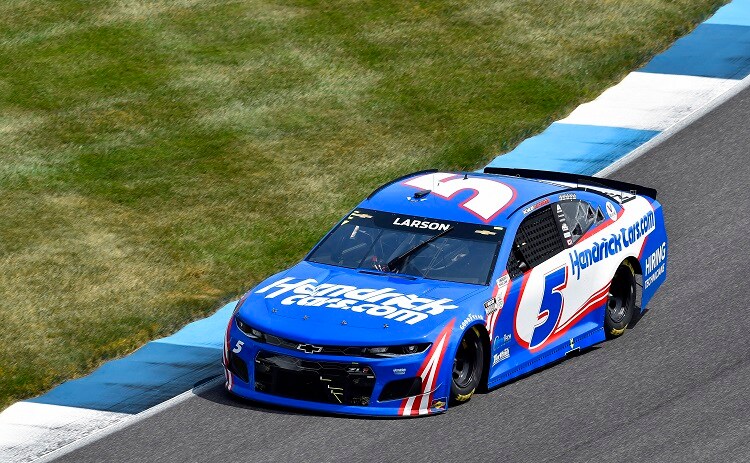 Kyle Larson, who started fourth in the Indianapolis Motor Speedway Road Course race on Sunday, liked the balance of his No. 5 HendrickCars.com Chevrolet Camaro ZL1 1LE during the first stage but requested better forward traction off the corners on the serpentine layout. In a strategy move geared toward the final result, crew chief Cliff Daniels called Larson onto pit road from fourth for a change of tires, fuel and a minor handling adjustment two laps prior to the end of the stage. Larson returned to the track 13th and finished stage one in that position.
During the stage break, many drivers that did not stop prior to the caution hit pit road for service which allowed Larson to restart fourth. The 29-year-old driver bypassed Hendrick Motorsports teammate William Byron on lap 21 and maneuvered up to second by lap 24. Again, Daniels called Larson to pit road before the break for a four-tire stop on lap 33. Larson returned to the track 11th, and the Elk Grove, California, native gained two valuable positions before stage two ended at lap 35.
Once the leaders pitted during the break, Larson was scored the leader of the inaugural event. The race restarted on lap 39, and the driver of the No. 5 entry led until a four-tire stop at lap 55. Once the pit stop cycle ended at lap 63, Larson was again atop the scoring pylon – a lead he built to more than four seconds before a caution waved at lap 74.
With only eight of the scheduled laps remaining, Daniels called Larson to pit road for new tires. He restarted fifth due to the stop but worked his way to second before another late-race caution set up the first attempt at a "green-white-checkered flag" two-lap shootout. Larson, who restarted alongside the race leader, charged toward turn 1 before contact sent him into the grass. When he returned to the racing surface, Larson was seventh as another caution waved which set up the second attempt at a "green-white-checkered flag" finish.
Larson restarted seventh with two to go and gained four spots in one lap. But he was unable to gain any more positions on the final lap and finished third.
COMMENTS FROM KYLE LARSON
"It was wild there at the end. My car was extremely good and I'm really proud of everybody on our Hendrickcars.com team. We had the best car throughout the second and third stage, and then had the caution there with like 10 to go. We stopped for tires but some guys gambled and stayed out, and that got us in the mess a little bit. I was able to work my way to the front row, and then just got shoved around and put in the grass. That kind of ended my shot to win, but we were able to salvage a third – so I'm happy about that and it was a good points day."