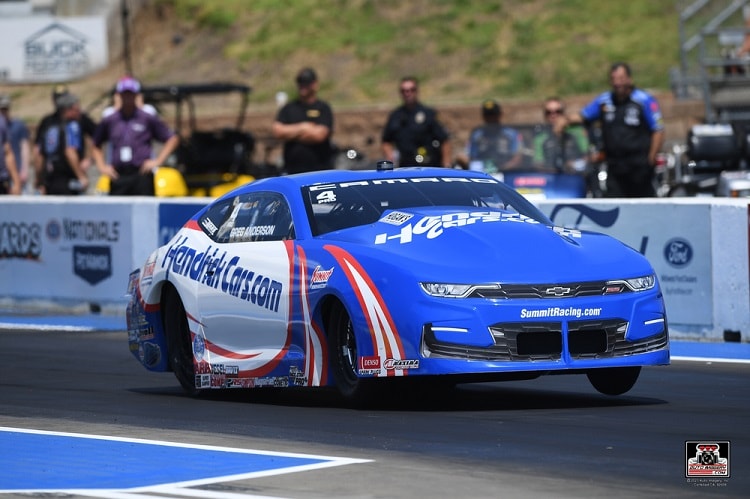 TOPEKA, Kan. (August 15, 2021) – KB Racing enjoyed an exceptional weekend in Topeka at the 32nd annual Menards NHRA Heartland Nationals presented by PetArmor, and Greg Anderson accumulated positive marks in his HendrickCars.com Chevrolet Camaro to head home with the points lead intact.
Anderson, the No. 2 qualifier, once again had one of the quickest cars in the field with his HendrickCars.com Camaro. His day came to an end, though, in the quarterfinals, when KB Racing teammate Kyle Koretsky utilized a starting-line advantage to defeat the boss. Second-generation Pro Stock driver Koretsky launched with a .022-second reaction time and followed through with a 6.671, 205.60 to Anderson's .039 and 6.655, 205.66. The margin of victory was just .0012-second.
"It was a tough day for me and my HendrickCars.com Chevy Camaro, but to see my teammates, Dallas Glenn and Kyle Koretsky, battle it out in the final put a little bit of a smile back on my face," said Anderson.
In the first round of eliminations, KB Racing-powered Matt Hartford knocked out Aaron Stanfield on a holeshot, a move which benefitted Anderson greatly. Stanfield had won each of the previous two events and was just behind Anderson in the No. 2 position in the Pro Stock standings heading into the event.
"It's great to still have the points lead – we've had it all season – and the ball is in our court," Anderson continued. "We've got one race left to get as many points as possible before the Countdown to the Championship begins, and the best way to do that is to go out there and run the table. We'll have our work cut out for us, but we know what this KB Racing team can do."
The next event for the Pro Stock competitors in the NHRA Camping World Drag Racing Series will be the Dodge // SRT NHRA U.S. Nationals at Lucas Oil Raceway at Indianapolis, September 1-5, 2021.
Greg Anderson's Raceday Results:
R1: Greg Anderson defeated Alan Prusiensky, (.010-second reaction time) 6.624-second at 206.57 mph to (.003) 6.713, 204.20
R2: Kyle Koretsky def. Anderson, (.022) 6.671, 205.60 to (.039) 6.655, 205.66
NHRA Camping World Drag Racing Series Pro Stock Standings (after NHRA Topeka)
1. Greg Anderson, 895
2. Aaron Stanfield, 741
3. Erica Enders, 725
4. Dallas Glenn, 639
5. Matt Hartford, 622
6. Kyle Koretsky, 618
7. Troy Coughlin Jr., 574
8. Mason McGaha, 550
9. Deric Kramer, 518
10. Chris McGaha, 409