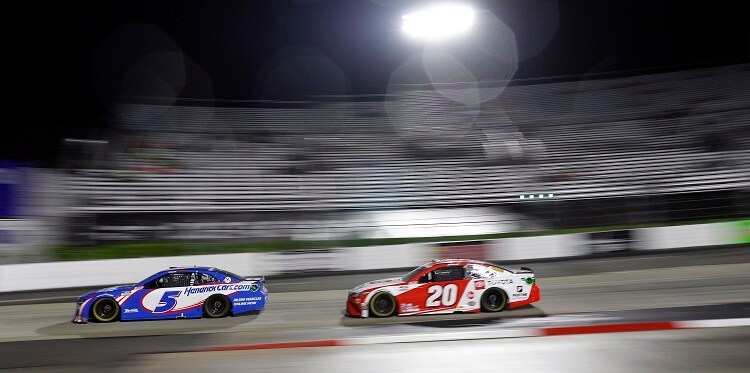 In a rainy mist on Saturday night, the green flag waved for the Martinsville 500 with Kyle Larson starting 19th. The 2014 NASCAR rookie of the year drove his No. 5 HendrickCars.com Chevy up to 10th by lap 52 before that mist turned to a constant rain, postponing the remainder of the race to Sunday afternoon.
When the race restarted Sunday under sunny skies, Larson continued his charge through the field. When stage one ended at lap 130, he was up to fifth and collecting valuable championship driver points awarded to the top-10 finishers in each stage.
After a fast pit stop by the No. 5 crew allowed Larson to restart fourth, he dropped several positions and was running seventh by lap 240. While his Chevrolet was "…good after 15 laps, it's loose early (on the short run)." Following several more caution periods and short runs which did not favor the handling of the No. 5 Chevrolet, Larson fell to 13th by the end of stage two.
After stopping for four tires, fuel and a chassis adjustment during the stage break, Larson restarted 16th at lap 269. The Elk Grove, California, native worked his way up to fifth before a caution waved at lap 320. But an issue with the left-rear tire change during the four-tire stop dropped Larson back to 14th. Again, he methodically worked his way past competitors and up to fifth before the day's final caution waved at lap 451.
After another fast four-tire stop by the No. 5 crew gained him two spots on pit road, Larson restarted third with 42 laps to go at the Virginia short track. But he dropped to seventh quickly on the restart while struggling with the lack of short-run speed, but gained two positions back before the checkered flag waved.
COMMENTS FROM KYLE LARSON
"The restarts were crazy. I didn't have the best balance on the restarts and that made it even a little crazier for me because I was on defense most of the time. Even when I was on offense, I was kind of on-edge. But after we would get 15 to 20 laps in, I actually felt really good. I felt like we were probably a fourth-place car on the long runs, so I was happy about that. To get a top-five here at, by far, my worst race track feels like a win."