New operating guidelines and social distancing have changed the way we do business, but they haven't changed Hendrick Automotive Group's commitment to caring for customers. In fact, by focusing on the virtual sales process and different delivery options, our dealerships can offer the highest level of service. The entire shopping experience can be customized based on customer comfort-level and needs, and many stores have been successful offering these options for the first time or through increased awareness.
Bringing vehicles to customers' front doors, no matter the distance, is not a new concept for
BMW of Kansas City South
. Dealership teammate Jack Barnhart recently brought a BMW Z4 more than 400 miles to Little Rock, Arkansas, for a buyer whose local dealership didn't have the model they wanted.
"Off-site delivery isn't new to us, but it's important to highlight that there is still a buying experience, even doing everything virtually. During the delivery trip with the Z4, the navigation stopped loading. But we were able to be in contact with the customer and do the leg work to get it fixed, so he wouldn't have to. That's where we can do better than virtual dealers, as we still provide a resource and can offer a tailored experience," said Barnhart.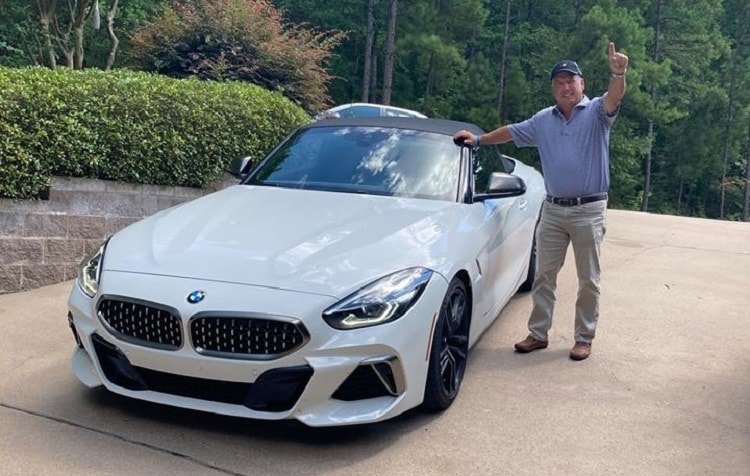 The BMW Z4 finds a new home with a happy customer in Little Rock, Arkansas.
Hendrick Honda Bradenton
in Florida has also been delivering vehicles directly to clients for years, but has seen more people take advantage of it and rely on virtual sales recently.
"I feel like this is the future of how customers will do business. Everything from test drives to the actual sale can be done at home, which is where people feel most comfortable. We can do our part to help people get what they need and feel safe. In April, I provided home delivery to 60% of my sales," said Melissa Richardson of Hendrick Honda Bradenton.
Teammates who have had success with digital sales cite the importance of transparency, service and providing as much information as possible.
Elizabeth Faragher, a salesperson at Hendrick Honda Bradenton, offers this advice:
"When promoting to customers, emphasize safety, convenience and saving time. As a sales person, make sure you are as thorough as you can be and provide resources like tutorial videos from the manufacturers so you can help educate them while remaining socially distant. Reassure them that you're there to help via video call.
Social distance doesn't equal a lack of care, education and resources!"
Faragher did a completely contactless sale that left a strong positive impression on a new customer, garnering the following online review:
"My wife and I just arrived in Sarasota where we are relocating. We needed a car but were concerned about the Coronavirus and asked if they could accommodate us. We were able to get the car we wanted at the price we wanted. Elizabeth made everything extremely easy and efficient. Everything was done by phone/email with no personal contact. Elizabeth brought the car to us. We communicated by phone so she could leave the paperwork on our steps, we took them up, signed them and then brought them down to our porch. Went back up and Elizabeth picked up the paperwork. Everything done and no risk to us. Fantastic service. Will enjoy meeting with them personally once this epidemic goes away."
Providing safe, convenient service has always been a hallmark of Hendrick Automotive Group's commitment to customers, and social distancing won't keep us from going the extra mile.