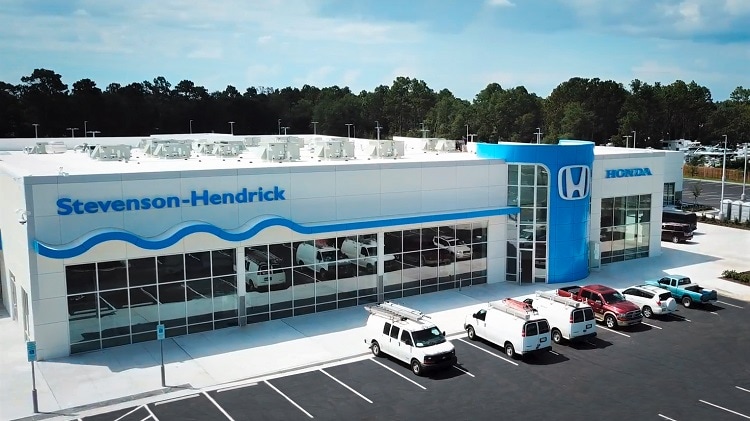 Hendrick Automotive Group has moved Stevenson-Hendrick Honda Wilmington to an expansive location at 6720 Market Street in Wilmington, North Carolina. At more than 65,000 square feet, the new facility is the company's largest dealership in the Wilmington area and consolidates the franchise's primary operations under a single rooftop.
Sitting on more than 14 acres and featuring 25,000 more square feet of space than the previous location (821 S. College Road), the new facility's highlights include an expanded vehicle showroom and sizeble 42-bay service center. In addition, the dealership offers free customer amenities like Wi-Fi, work stations, coffee and snack bars, and a wide variety of complimentary beverages.
"Our new facility allows us to grow along with the Honda customer base in Wilmington," said Rick Hendrick, chairman and CEO of Hendrick Automotive Group. "With the new Market Street location, we prioritized easier access to the dealership, more parking and a truly special visitor experience. Our team members now have world-class facilities and amenities that will exceed the expectations of both our longstanding and new Honda customers."
Retailing 400 new and 200 pre-owned vehicles, Stevenson-Hendrick Honda offers all five of Honda's Kelley Blue Book Best Buy award-winning vehicles for 2020 including the Civic, CR-V compact sport utility vehicle and Odyssey minivan. In addition, nearly 30,000 new, pre-owned and certified cars, trucks and SUVs are available to customers at HendrickCars.com.
"It is so important to have all of our teammates together in one location," said Dan Dehass, the dealership's executive general manager. "The focus we have on each of them is why this dealership has experienced such incredible growth. Our new facility will continue to provide customers with the welcoming service and environment they have come to expect. We are just scratching the surface of this franchise's potential."
In June 2018, Hendrick Automotive Group announced a partnership with Susan Stevenson to operate Stevenson-Hendrick Honda Wilmington, the company's fourth Honda franchise in North Carolina and 15th nationally. Recognized for superior customer service, new car sales volume and outstanding operations, it earned the 2019 Honda President's Award, which is the manufacturer's most prestigious dealership honor.
For more information on employment opportunities, please visit
www.HendrickCareers.com
. The dealership is currently hiring client advisors, service technicians, service advisors and other positions.
For additional information on Stevenson-Hendrick Honda Wilmington, please visit
www.stevensonhendrickhonda.com
.